How do people implement successful pyramid schemes
E-commerce is booming inexorably, marketing and sales are becoming more digital. Should your company therefore only rely on online channels to sell its products? No. Even classic sales channels still work today. For example direct sales - and thus multi-level marketing, which despite its bad reputation has a right to exist.
What is multilevel marketing?
Multi-level marketing (short: MLM) is a form of direct marketing that is strongly hierarchical. It consists of numerous levels (multi level) and sales partners.
Network marketing, structure sales, direct sales, MLM: what are the differences?
With direct sales, you sell your products directly to the end customer, without intermediaries such as retail chains or shops. For sales, your company relies on salespeople who have a direct line to the customer. The focus here is on personal advice and exchanges in the event of problems.
Direct sales is an old sales channel that still exists today - partly because of recommendation marketing. Because people prefer to buy from people. They trust the words of a human advisor more than the messages of an ad.
In direct selling, there are different models of how a company can develop a relationship with the end customer. One is multi-level marketing, also known as network marketing in English. In German it is known as structure sales or pyramid system and is notorious as a pyramid scheme.
Multi-level marketing: criticism justified?
As the term implies, multi-level marketing consists of different levels.
When a company that operates MLM hires a salesperson, they have two tasks:
sell the product

recruiting new employees for sales
Why? Because the employee - who works freelance and is not a permanent employee - receives two types of commissions for sales:
a commission per product sold

a commission from the sales of the sales partners he recruited
If an MLM sales person has recruited another sales partner, he rises in the hierarchy of the network marketing system. The higher he rises, the more commission he receives, as he also benefits from the new partners that his partner recruits.
This creates a hierarchical system that is very broad at the bottom and very pointed at the top - a pyramid.
The following diagram shows what a multi-level marketing system looks like in simplified form. Note: The specified commissions are only examples.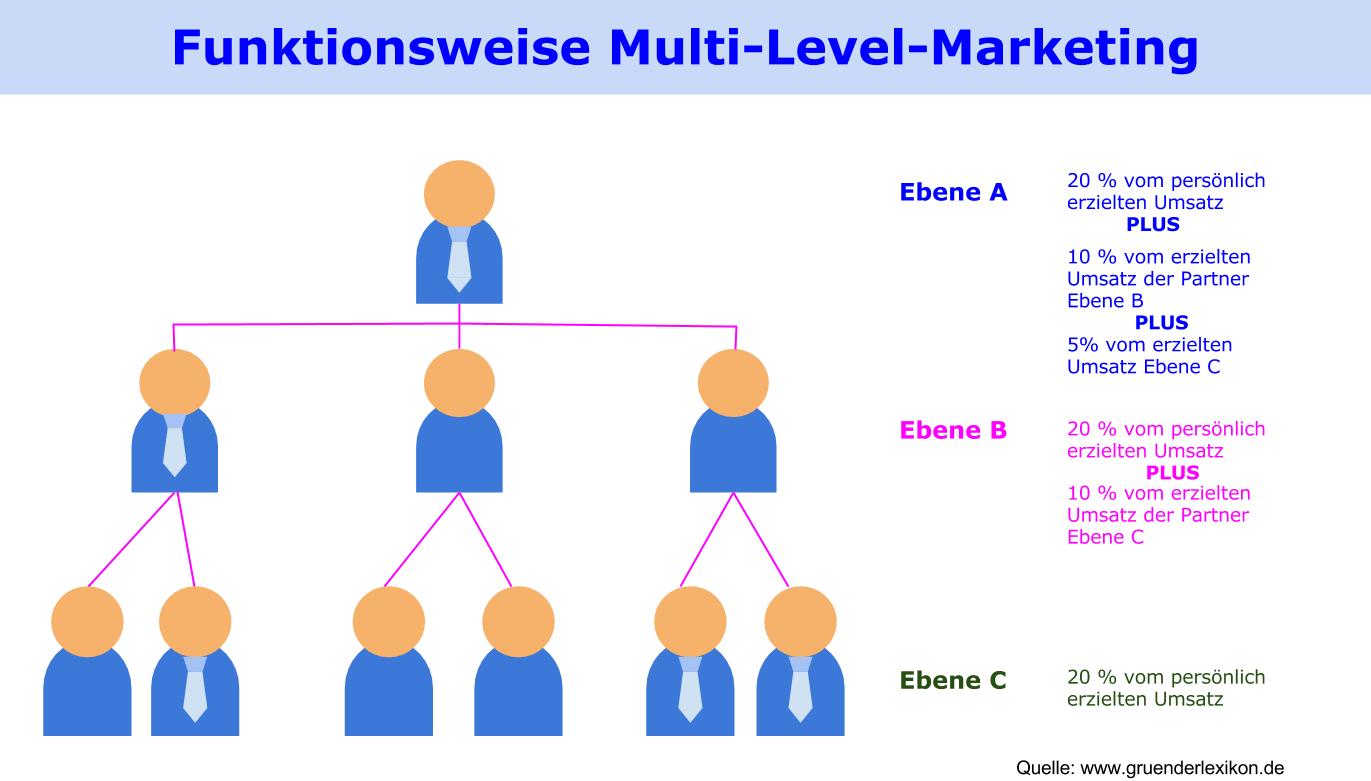 Screenshot: www.gruenderlexikon.de
4 well-known examples of an MLM system
Structural sales are often used in the beauty sector, household goods and financial services. For example, these companies rely on multi-level marketing:
● ENERGETIX: pieces of jewelry
● AVON: cosmetic and wellness products
● Tupperware: housewares
● German investment advice: financial services
The MLM system as a pyramid scheme
Structural sales are often referred to by critics as a pyramid scheme. The reason: a snowball grows when it rolls down the slope.
Transferred this means: Those who are at the top of the hierarchy in multi-level marketing automatically benefit from the lower levels - their income through commissions increases the larger the pyramid becomes.
The term "pyramid scheme" has a negative meaning. This is the name given to MLM systems in which recruiting new partners is more important than selling the (often overpriced) products. In addition, with the systems that are mostly illegal or that are on the verge of illegality, it is expected that every newly recruited employee will bring their own capital into the system.
The advantages of network marketing
If you operate the MLM system honestly, it offers a number of advantages for your company. For example:
You do not have to hire any employees, as the sales partners act independently.

The sales partners can start their work as part-time or part-time employment.

The partners are motivated because their income depends on their performance.

The direct line to the end customer results in a better consulting service.

The sales partners act as brand ambassadors and influencers for the products or the company.

The sales network of sales partners ensures a strengthening network effect (more partners means more partners and in turn means more sales).
The disadvantages of multi-level marketing
Many salespeople are lateral entrants, and they often lack the appropriate commercial training.

Your company has to train its partners regularly and provide them with information, which means a lot of administrative effort.

There is a high fluctuation among sales partners.

The structure and hierarchy become opaque over time.

An MLM system can slide into illegality.
What is important when setting up a structured sales organization
Don't underestimate the effort of managing the structure of the pyramid scheme.

Provide all sales partners with new and important information about your products on a regular basis.

Offer training and education so that your partners can advise end customers in the best possible way.

Offer high quality products at serious prices.

Introduce a fair and transparent commission structure so that the partners on the lower levels can also achieve a good income.

Do not focus too much on the recruitment system, or a pyramid scheme could result.

Also pay close attention to the legislation, for example § 16 UWG (law against unfair competition).
Is multi-level marketing still appropriate for companies?
The answer to this depends on your products, the market and the competitive situation. The MLM system can be a good idea, for example, if you are looking for a niche as a start-up or if you offer a product that requires explanation.
If you operate the pyramid system in accordance with the law and fairly, it is a good concept for growth despite digitization. And to sustainably build a brand through the influencers - your sales partners.
Cover picture: z_wei / Getty Images
Originally published September 15, 2020, updated September 15, 2020
Recommend this article: