How does Kofax Capture process invoices
CenterDevice & Kofax Capture - Integration out of the box. Capture, classify and process documents
CenterDevice & Kofax Capture - A guest contribution by Jürgen Voss, codecentric AG
The digitization of incoming paper, fax and e-mail documents, the classification, data extraction and secure data storage in a document management system (DMS) is a standard task in many companies.
Jürgen Voss supports customers of codecentric AG in capturing incoming documents (data extraction, integration into business processes). In this guest article, he describes how solutions for document classification and storage can be implemented "out of the box" with the standard applications CenterDevice and Kofax simply through installation and configuration.
The recorded documents are securely stored in document management systems such as CenterDevice or archive systems.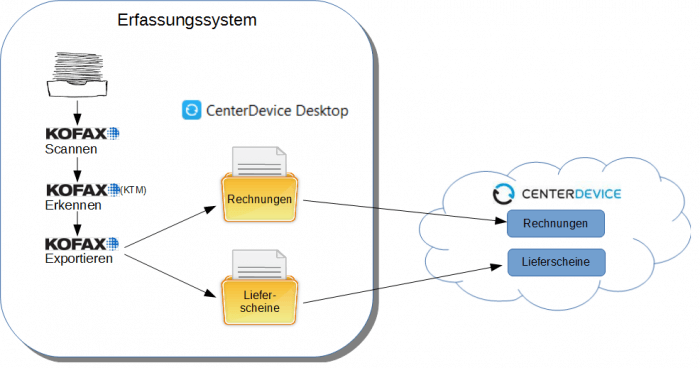 Capture, classify and process documents: the sketched solution with CenterDevice and Kofax Capture in the overview image.
CenterDevice as DMS and document cloud
CenterDevice is a cloud-based professional document management and online collaboration system.
All documents of a company come together in the CenterDevice Cloud DMS. The cloud solution makes it easier to find, share and manage documents. Documents are securely stored in the cloud and distributed with a click of the mouse. Data can be structured using keywords and collections, and every file can be quickly found using the full-text search. More details can be found here.
Kofax Capture for digitizing corporate documents
Kofax Capture automates and accelerates business processes by capturing paper documents and forms of any kind, converting them into reliable information that can be accessed at any time, and transferring the information to your business applications, processes and workflows - in our case to CenterDevice. More details can be found here.
Kofax Transformation Modules for classifying documents
Work with the optional Kofax Transformation Modules (KTM) - the module extends Kofax Capture to include automatic document classification as well as data extraction and validation. More details can be found here.
The solution for companies
In this simple example scenario, incoming delivery notes and invoices are to be digitized, classified and made available for processing.
For this purpose, two collections are set up in CenterDevice via the web frontend: invoices and delivery notes.
The incoming invoices and delivery notes are to be scanned with Kofax Capture. In this simple example, Kofax Capture recognizes whether it is an invoice or a delivery note and, after successful processing, uses its standard text export script to finally write the files to a suitable folder (delivery notes or invoices) in the local file system.
To extract further business data, KTM can optionally be used as a plug-in for Kofax Capture. This means that invoice data such as invoice number, invoice date, amounts, supplier, etc. can be automatically read out.
Automated upload via desktop client and transfer folder
The "CenterDevice Desktop Client" is used for the automatic transfer to the CenterDevice cloud and the appropriate collection (invoice or delivery note).
In the desktop client you can define transfer folders on the local PC, each of which can be assigned to a collection in CenterDevice. All documents that Kofax Capture now stores in the local folders via export definition are automatically transferred from the Desktop Client to the associated collections in CenterDevice. In CenterDevice, the documents that have arrived can now be processed further, e.g. using a workflow.
The Windows user must be logged in to use the CenterDevice Desktop Client. This is certainly not a problem for smaller standalone systems. For larger installations, however, it would be desirable for the export from Kofax Capture and the transfer to the CenterDevice Cloud to run as a Windows service without a user login. There is also a Kofax Capture export script developed by codecentric that writes the documents and data directly to CenterDevice and can be installed as a Windows service.
With this constellation, companies can scan and process incoming documents both centrally and decentrally. Integration into existing applications (workflow, etc.) is also possible via the extensive functions of the CenterDevice API.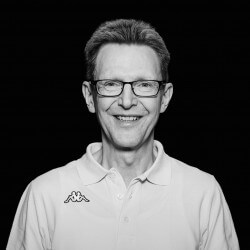 Jürgen Voss, codecentric, AG
Jürgen Voss supports the customers of codecentric AG in the acquisition of incoming documents, their classification including data extraction and subsequent starting of the business processes. The recorded documents are securely stored in document management systems (DMS) such as CenterDevice or archive systems. This also includes e-mail archiving and storage via the SAP archiving interface ArchiveLink.
Tags: data extraction, data validation, digitization, documents, classification