AfD constitutional lawsuit against Seehofer's criticism successful
In the legal dispute over a harsh criticism of the party by Federal Interior Minister Horst Seehofer (CSU), the AfD achieved success before the Federal Constitutional Court. The highest German court in Karlsruhe ruled that Seehofer had violated the right-wing populist AfD's right to equal opportunities in political competition by publishing critical interview statements on the website of his ministry.
"That is state-destroying "
Seehofer, who was also head of the CSU at the time, said in the interview later published on the ministry site in September 2018 about the AfD parliamentary group, among other things: "I cannot stand in the Bundestag and disgrace the Federal President like at the fair is state disruptive. " He also said: "They are against this state. You can say a thousand times that you are democrats."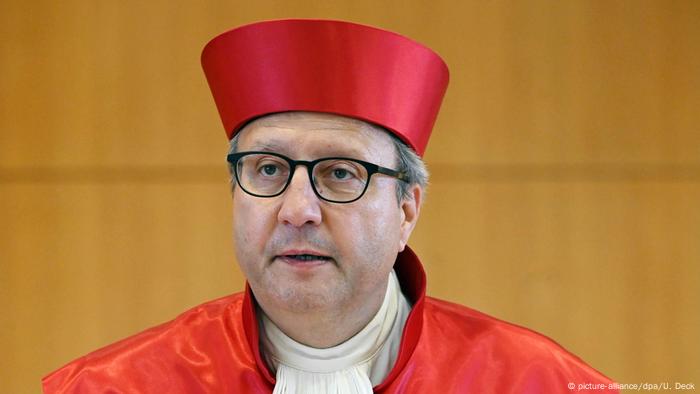 Court president Andreas Vosskuhle at what is expected to be his last verdict
With his statements, Seehofer actually violated the principle of state neutrality and violated the party's right to equal opportunities, the Second Senate of the court decided. "The admissibility of the public relations work of the federal government ends where advertising for or influence against individual parties or persons in political competition begins," emphasized the outgoing court president Andreas Vosskuhle in what is likely to be his last verdict. In particular, there should be no recourse to resources associated with the office.
"Important contribution to political hygiene"
The AfD federal chairman Jörg Meuthen described the court decision as an "important contribution to political hygiene in Germany". The judges had found that Seehofer was not allowed to use any "government resources" "to defame the opposition," said Meuthen. The leader of the AfD parliamentary group in the Bundestag, Alice Weidel, even called for Seehofer's resignation.
The ruling has no direct consequences for the minister. The interview has not been on the website for a long time. Seehofer gave it to the German Press Agency in September 2018. In February 2018, the Constitutional Court ruled in a similar case in the dispute over a press release critical of the AfD by the former Education Minister Johanna Wanka (CDU) that the minister had violated the party's law.
sti / AR (afp, dpa, rtr)