Clinical philosophy that's yours
How do you feel about philosophy?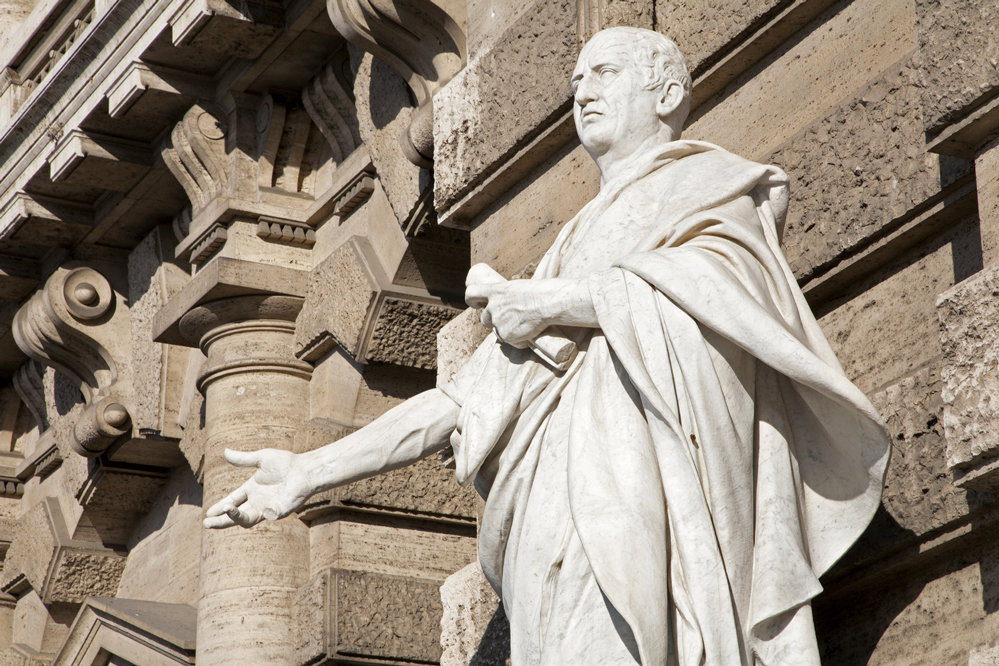 Philosophy in medicine studies (© Renáta Sedmáková - fotolia.de)
The necessity of philosophy in medical studies is underlined again and again in numerous specialist articles. The tenor of the contributions: The study and practice of human medicine are today characterized by natural sciences; However, medical action is based equally on ethics, humanity and philosophy. Reason enough for the "Bayerische Ärzteblatt" to pursue this steep thesis. We asked the six medical faculties of the Bavarian state universities: How do you feel about philosophy? Read the short articles here - in alphabetical order.



Two integrated longitudinal courses
In the 2019/20 winter semester, the first cohort of 84 students will start their studies in human medicine in Bavaria's first integrated model course at the University of Augsburg. The curriculum has an interdisciplinary structure, includes a clinical and a scientific longitudinal course from the first semester onwards, and builds on the two key areas of Environmental Health Sciences and Medical Information Sciences [1].

Although these two focal points are more likely to be assigned to the first foundation of medical action according to Karl Jaspers [2] - scientific knowledge - the second foundation, which includes ethics, humanity and philosophy, will also be an integral part of the Augsburg curriculum. The interdisciplinary modular curriculum with the two integrated longitudinal courses offers an ideal prerequisite for linking these two foundations. Scientific topics are combined with the associated philosophical questions in the modules and enable aspects to be viewed from different perspectives.

These links are thematized in the Augsburg curriculum in all semesters and deepened in the sense of a spiral curriculum with increasing complexity. For example, in the fourth semester of the "Life & Dying" module, in addition to scientific subjects such as embryology, physiology of life and dying and the accompanying anatomical dissection course, ethical aspects at the end of life are also centrally integrated. In this module, using the method of problem-oriented learning, questions about end-of-life care and human dignity are thematized using case studies in small groups and reflected in more depth in observations, for example on a palliative care unit.

Another example is the clinical longitudinal course, in which students learn physical and technical examination techniques in simulations from the first semester onwards, and from the third semester onwards also with patients. The longitudinal course also includes an extensive communication curriculum. In this, communication in different contexts, such as taking anamnesis, patient information and education, communication in interprofessional teams or the delivery of bad news is practiced. Aspects such as empathy, patient focus, human dignity or the doctor-patient relationship are of central importance. In addition to the practical application, theoretical aspects, such as different lifeworlds and the basics of hermeneutics, are also dealt with.
In the scientific longitudinal course, which also begins in the first semester, in addition to the practical aspects of scientific work, reflection on methods from an epistemological perspective is also included.

In addition to the integration into teaching, philosophical and ethical aspects are also integrated into the examination concept, especially as part of a longitudinal portfolio. For example, in the "Living & Dying" module, a formative test will consist of reflecting on a self-chosen ethical topic, writing a text about it and receiving feedback in an individual feedback session.
For the implementation, we strive for close cooperation with the chairs of the philosophical and social science faculty of the University of Augsburg, both in the development of the curriculum as well as in teaching and testing.

In summary, it can be said that sensitization for different philosophical aspects of medical practice will be an integral part of the Augsburg medical curriculum.
The bibliography can be found on the Internet at www.bayerisches-ärzteblatt.de (current issue).

Authors
Privatdozentin Dr. Inga Hege 1
Privatdozent Dr. Reinhard Hoffmann 1, 2
Christina Rohrer 1
Professor Dr. Martina Kadmon 1
1 Medical Faculty of the University of Augsburg
2 Augsburg Clinic, Institute for Laboratory Medicine and Microbiology


Erlangen perspectives
"So, to use the proud word, we have entered the age of natural science," stated Rudolf Virchow (1821 to 1902), founder of cellular pathology, in 1893 programmatically and at the same time very self-confidently. When Virchow, one of the leading minds in medicine of his time, said this, the "tentamen ('attempt') philosophicum" previously common for medical students had been replaced by the "tentamen physicum" for more than three decades (1861), not least at the instigation of Virchow, who had apodictically stated in 1845 that the "scientific method ... by the way is the only method that exists at all." (Rothschuh 1978). So has "philosophy" played its part in medicine since then?

The seemingly simple question requires a careful medical-historical analysis, which can only be hinted at here. First of all, the question must be asked what role "philosophy" played in premodern medicine, before the transition to natural science. The layman's idea that premodern medicine was "more philosophical" is based on an optical illusion and is influenced by the topos of the good old days. The fact is that the "separation" of medicine from philosophy was already seen as an essential step in establishing the art of healing (Greek "techne iatrike", Latin "ars medica"), according to the testimony of the Latin encyclopaedist Celsus ( 1st century AD). The obvious overlapping of medical concepts with natural history theories were inevitable and comparable to the parallelism of modern natural sciences and (now molecular) medicine. Medicine has always adopted those paradigms and adapted them for its purposes that offered the best key to solving the questions of health, disease and healing.

But back to the role of philosophy: on the one hand, premodern medicine distinguished itself from philosophy, but emphasized its scientific nature, its responsibility and its social position by claiming to maintain a (medical) philosophy itself. The fact that the "true doctor is also a philosopher" and the "philosophical doctor is godlike" are aphorisms that have played a major role in the self-image of the medical profession since ancient times (Galen and Hippocrates). However, this high claim is opposed to the succinct finding that there were hardly any important philosophers among doctors of all ages and cultures. The reasons for this require separate consideration.

But now to the role of "philosophy" in the curriculum of the Medical Faculty of the University of Erlangen-Nuremberg. This is not about entering into a competition for the philosophical offer in teaching. There are students of medicine who happily complete a parallel degree in philosophy; this small group is excluded here. The majority of medical students are hardly interested in philosophy, but are very open to philosophical considerations on (historical) genesis, nature, scope and limits of medicine. For this reason, the Erlangen curriculum includes both the compulsory teaching prescribed by the license to practice medicine and the wide elective area of ​​numerous courses in which medicine is thematized from a philosophical perspective. This approach is the most important of all for the two subjects of the history of medicine and medical ethics. Corresponding courses, also relevant to the exams, address historical and anthropological topics as well as questions of theoretical and clinical ethics. The interest and commitment of the students in these courses are considerable.

In addition, the above-mentioned compulsory elective area includes courses from numerous preclinical and clinical subjects in which philosophical (borderline) questions of medicine are thematized. The spectrum ranges from the anatomy seminar "Dying and Death from an Anthropological Perspective" to "MARS - Medical Applications to Reduce Stress" and "Acoustic Communication. Language and Music "," Psychological Development of Children and Young People. Still 'normal' or already 'disturbed' ", from" Future of Medicine "to multi-professional seminars in palliative medicine and the event" The emergence of modern psychiatry and psychology ". The subject of philosophy itself is not the subject of these courses, but the students are motivated and instructed to deal creatively with philosophical questions in science-based medicine. All in all, these Erlangen lessons, in the best philosophical tradition, aim to cultivate curiosity as the basis of (all) science.

Authors
Professor Dr. Jürgen Schüttler,
Dr. phil. Nadine Metzger,
Professor Dr. Hans Drexler,
Professor Dr. Karl-Heinz Leven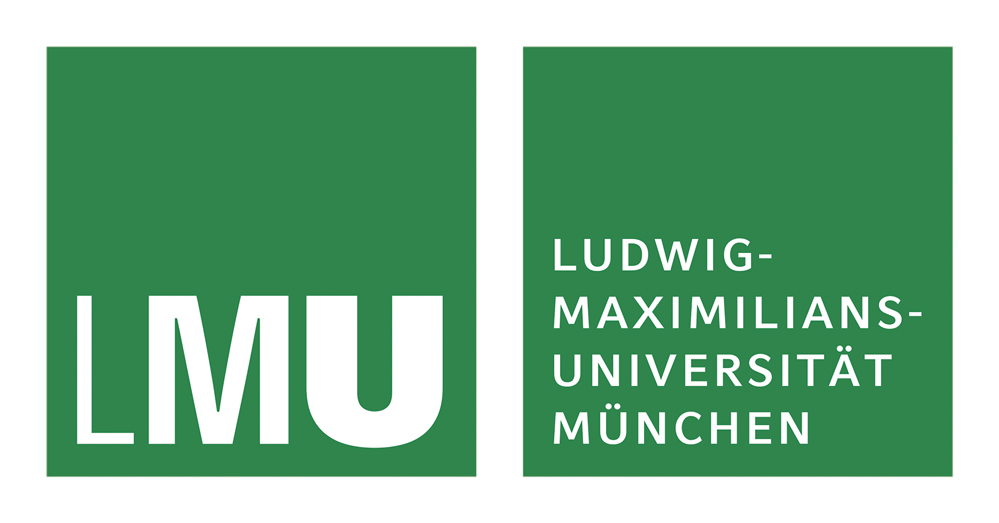 Electives with philosophy students, participation in research
In order to sharpen and train medical thinking and acting beyond a functionalistic scientific view of people in medical studies, in addition to the already well-established medical history and ethical teaching content, basic knowledge in various areas of philosophy is required and is currently being discussed from many sides.
At the Medical Faculty of the LMU Munich, the Institute for Ethics, History and Theory (EGT) of Medicine offers medical students various opportunities to deal with philosophical questions that are relevant for their later medical work. Up until now, teaching has mainly taken place in the form of electives in the pre-clinical stage and is often carried out on an interdisciplinary basis with philosophy students.

Science and epistemology give students an understanding of how medical knowledge is created, how observer-dependent and reliable they are. Closely related to this is the question of whether medicine is a science and what, if so, what characterizes it as a practical science. By examining the scientific-theoretical self-image of medicine, the students can better understand where unavoidable tensions lie between biomedical research aimed at standardized knowledge gain and medical action aimed at the individual patient. The insight into the constructiveness of perception sensitizes the students for the individual reality of the patient and promotes the medical understanding of the subjective point of view of the patient. An overarching bio-psycho-social model of the human organism allows students to adequately take into account the diverse interrelationships between body, soul and social environment of the patient.

The philosophy of mind promotes understanding of the relationship between mental and physical states as well as of the nature of emotions and their relationship to cognitions. In neurology, psychiatry, psychosomatics and psychotherapy in particular, these questions are of great practical relevance. Dealing with central terms such as illness is essential in order to be able to better deal with uncertainties when determining illness and health. Growing knowledge, for example about genetic disease risks and ways of optimizing people, are currently challenging our understanding of disease in a particular way.

Anthropology and the philosophy of technology enable students to better understand different images of man, the relationship between man and nature, technology and culture. In times of increasing mechanization and digitization of medicine, philosophical reflections on this are becoming more and more important. Political philosophy and social philosophy finally allow a critical examination of questions of justice in medicine and public health and promote sensitivity for the socio-economic and political determinants of health and illness.

Students can deepen the knowledge they have acquired by taking part in research colloquia and seminars at the Institute for EGT in Medicine, working as student assistants in research projects, doing a doctorate at the institute or contributing to publications on fundamental philosophical questions in medicine. Many students confirm a strong need for more philosophical content in teaching and develop new concepts for the Medical Curriculum Munich (MeCuM) themselves. In view of the importance for human medicine with the challenges of economization and mechanization, it would be desirable to integrate the philosophical foundations of medicine even more strongly in the compulsory curriculum of the clinical training section. The inter-faculty exchange with philosophy has proven to be fruitful and should be intensified both on the part of the teachers and on the part of the students.

Authors

Dr. Dr. phil. Orsolya Friedrich,
Professor Dr. Martin R. Fischer, MME (Bern),
Professor Dr. med. dent. Reinhard Hickel,
Professor Dr. Georg Marckmann, MPH


Medical attitude, ethical reflection and professional subjectivity
Anyone who wants to become a doctor has to learn and understand that and how to perceive and take people seriously as human beings. However, such an understanding cannot be developed between the lines of medical textbooks alone. It must be explicitly addressed and specifically promoted.

At the beginning there is the question: What should come out at the end of the medical degree? Because if the answer is "fully trained doctors", then the second question immediately arises: How can this goal actually be achieved through medical studies? Doctors need to have medical knowledge and expertise - and do both as well as possible. But being a good doctor also requires an appropriate attitude, the ability to reflect ethically and a medical character that is not only up to the day-to-day challenges of medical practice, not only professionally, but also personally. Philosophy and other humanities therefore play a decisive role in medical studies.

In 2003, the previously extracurricular subject history, ethics and theory of medicine became an integral part of the license to practice medicine. At the Technical University of Munich it is taught as part of a main lecture by the Institute for the History and Ethics of Medicine. Essential learning objectives are covered by topic; For example, the doctor-patient relationship is reflected in both historical and ethical dimensions - always with reference to everyday clinical practice, often on the basis of clinical cases. In order to show the students the practical connection between humanities and medical aspects, the lecture is partly held in tandem, for example between an ethicist and a clinician. The ethical reflection skills of the students are also trained in the ethics seminars, which, partly together with palliative medicine, illuminate various ethical aspects of medical work on a case-by-case basis. In addition, there are a number of extracurricular offers, such as elective subjects with a historical or ethical focus and interdisciplinary events on key topics at the institute.

In addition, the LET ME (Lettered Medicine / Lettered Medical Education) program was launched two years ago with the aim of helping students achieve professional subjectivity. Because those who neither perceive nor take their own subjectivity seriously cannot establish an intersubjective relationship with others, and whoever does not develop a critical self-understanding of being a doctor and being human will not be able to adequately understand the human nature of the other person. LET ME therefore strives to cultivate medical studies through artistic and humanistic impulses and versatile, interactive formats, thanks to which students can come to terms with their own professional and personal conditions and consequences.

Such a dispute is particularly urgent in a medical and, above all, clinical context, but is equally useful and sensible for other specialist areas and training goals. Accordingly, the basic idea of ​​LET ME was also transferred to the newly founded elite master's degree in Biomedical Neuroscience.There, parallel to the scientific education, a compulsory module takes place over three semesters together with the University of Philosophy, which should enable the graduates not only to become excellent researchers, but also to become self-critical subjects who are reflective of both their research topic and their research activities . In perspective, all of these activities are combined with the hope that the natural sciences and humanities will no longer be understood as antagonists, but rather in their meaningful interplay. In order to dismiss real doctors from their studies, such an interplay is essential from our point of view.

Authors
Professor Dr. Pascal O. Berberat,
Professor Dr. Peter Henningsen,
Daniel Teufel, M. A.,
Professor Dr. Eckhard Frick,
Professor Dr. Gerrit Hohendorf,
Professor Dr. Alena Buyx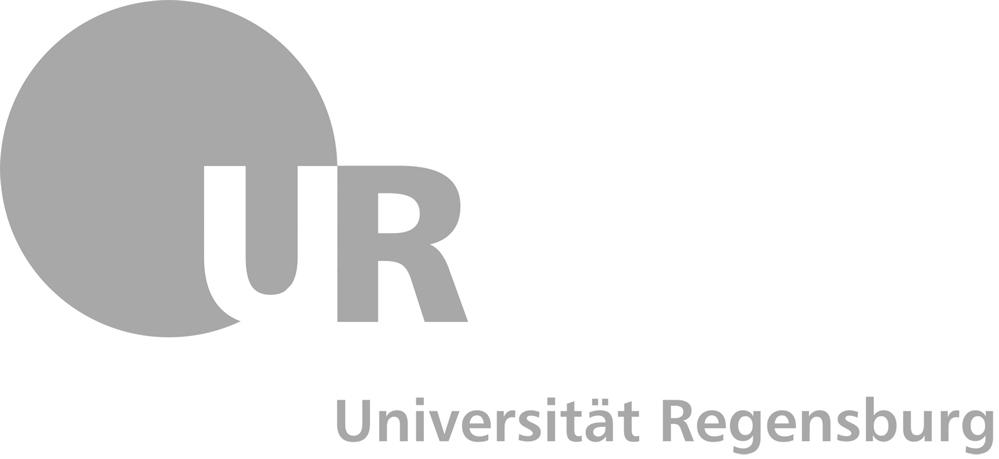 Integration of philosophical content into the study of human medicine
Philosophical topics in medicine remain topical. Reflections on the image of man and ethics in the context of health and illness are important for every doctor. Both the interdisciplinary subject history, theory and ethics in medicine, as well as the elective subject philosophy and scientific theory of medicine conceived for Regensburg, serve to train and promote reflection and discourse skills.

Doctors deal with the basic topics of medicine throughout their professional life: Health - Illness - Healing - Death: These are central questions of humanity, on which philosophy and philosophy of science can provide important insights. The National Competence-based Catalog of Learning Objectives (2015) requires (Chapters 6.4.1 and 6.4.2) from the doctor in his / her role as a scholar competencies in the field of philosophy of science, epistemology and ethics, which thematically correspond to the border area between philosophy and medicine. These have not yet been adequately reflected in the curriculum.

At the Faculty of Medicine at the University of Regensburg, the entire subject is basically assigned to the cross-sectional area of ​​history, theory and ethics of medicine. The history of medicine is taught by lecturers from the Institute for the History of Medicine at the University of Würzburg, while medical ethics and the theory of medicine are taught by academic staff from our faculty who have specialized in this area. Even if our faculty does not have a corresponding chair, the range of courses should be expanded to include the optional subject "Philosophy and Philosophy of Science in Medicine". In line with the classic educational requirements of the Humboldt University, this elective is intended to broaden the students' horizons for fundamental questions from the border areas of medicine and to open up a different perspective for them in the sense of "medical humanities" on medicine and everyday medical practice (see table) .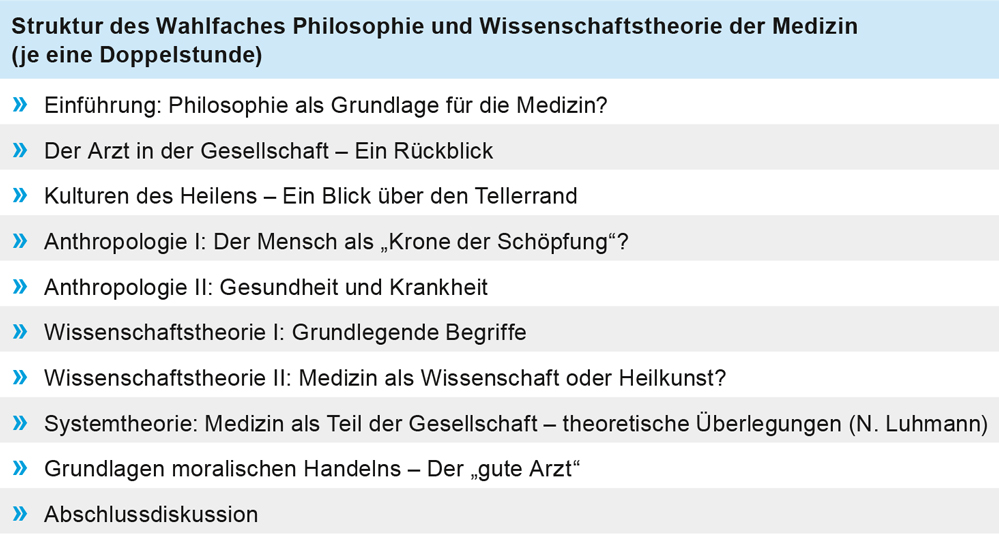 Table: Structure of the electives Philosophy and Philosophy of Science in Medicine (one double period each)

In dealing with selected classical texts from philosophy and medicine, new reflection and discourse skills are to be developed. The students are "made able to speak" in view of the increasingly important interdisciplinary exchange. The elective thus conveys competencies that are located in the role of the doctor as a scholar, and thus sharpens the profile of the graduates. As part of the elective course, four thematic focal points are developed:
1) Basic concepts: health, illness
2) Anthropology: The healthy and the sick person
3) Philosophy of Science: Medicine between ability and knowledge
4) Ethics: medicine between ability and should.

Thematically, the introduction to the history of medicine and philosophy is followed by a presentation of the central categories of health and illness from a medical and medical-philosophical point of view, and the question of healthy and sick people is discussed. To this end, key positions in philosophical anthropology are reconstructed and discussed using selected texts. The discussion of the mind-body problem and the related methodological problems lead to questions of the theory of medicine as a science. On the one hand, the work of the medical scientist and scientific theorist Ludwik Fleck is presented as an example, and on the other hand, aspects of systems theory by Niklas Luhmann are discussed. The definition of medicine as a practical science in the Aristotelian sense and the resulting perspectives on medicine as a medical science in the field of tension with clinical research are then dealt with and this is concluded using the example of indication and diagnosis.

Both medical practice and clinical research give rise to numerous ethical problems that are treated and discussed in selected cases on a case-by-case basis. On the subjects of "good medical care" and "the good doctor as an ideal", an attempt is made to synthesize the entire seminar from a practical-philosophical perspective.

Conclusion: Reflecting on fundamental philosophical questions in medicine is essential for a good medical profession and good medicine in the future. It must be given sufficient space in the study of human medicine!
Authors
Professor Dr. Thomas Bein, M. A., 1
Privatdozent Dr. Jörg Marienhagen, 2nd
Professor Dr. Bernd Salzberger, 3rd
Professor Dr. Dr. Torsten Reichert, 4th
1 Clinic for Anaesthesiology, Chairman of the Clinical Ethics Committee, Dean's Office for the Faculty of Medicine (quality and development in teaching), email: thomas.bein (at) ukr.de
2 Department of Nuclear Medicine
3 Dean of Studies, Faculty of Medicine, Infectious Diseases Unit
4 Dean, Faculty of Medicine, Clinic for Oral and Maxillofacial Surgery
all Clinic of the University of Regensburg, 93042 Regensburg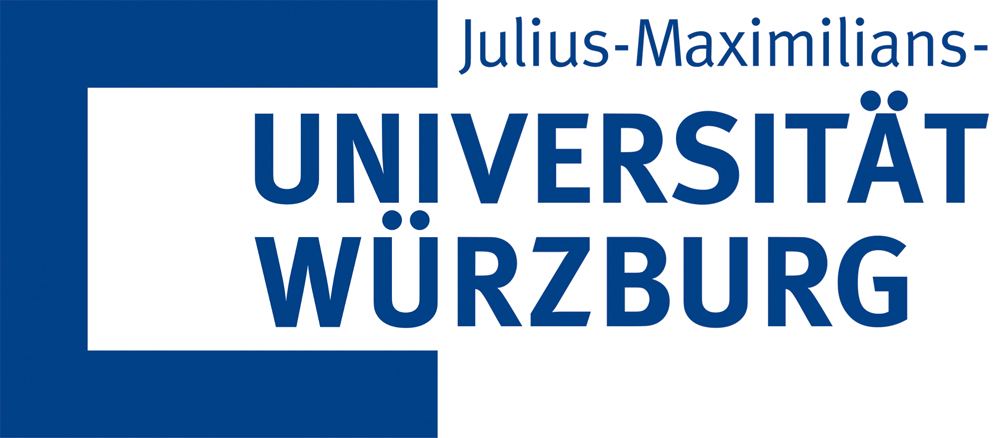 Food for thought when studying medicine in Würzburg: reflect on your own thoughts and actions
The medical faculties in Germany are currently called upon to compare the existing curricula with the National Competence-Based Catalog of Learning Objectives for Medicine (NKLM - www.nklm.de) and to gain practical experience in the implementation. In addition to the professional expertise, the diverse roles to which the medical degree should lead are defined: communicator, member of a team, health advisor and advocate, responsible person and manager as well as professional / r Actor. In the sense of superordinate competencies, these roles include the most diverse aspects of the medical profession, including, for the first time, personal, social, humanistic and socially relevant competencies that are not primarily aimed at scientific foundations and clinical diagnoses. Interdisciplinary "cross-sectional areas" were already introduced with the license to practice medicine for doctors (ÄApprO 2002). With regard to the philosophical and humanities competencies mentioned here, cross-sectional area 2 "History, theory and ethics of medicine" should be emphasized.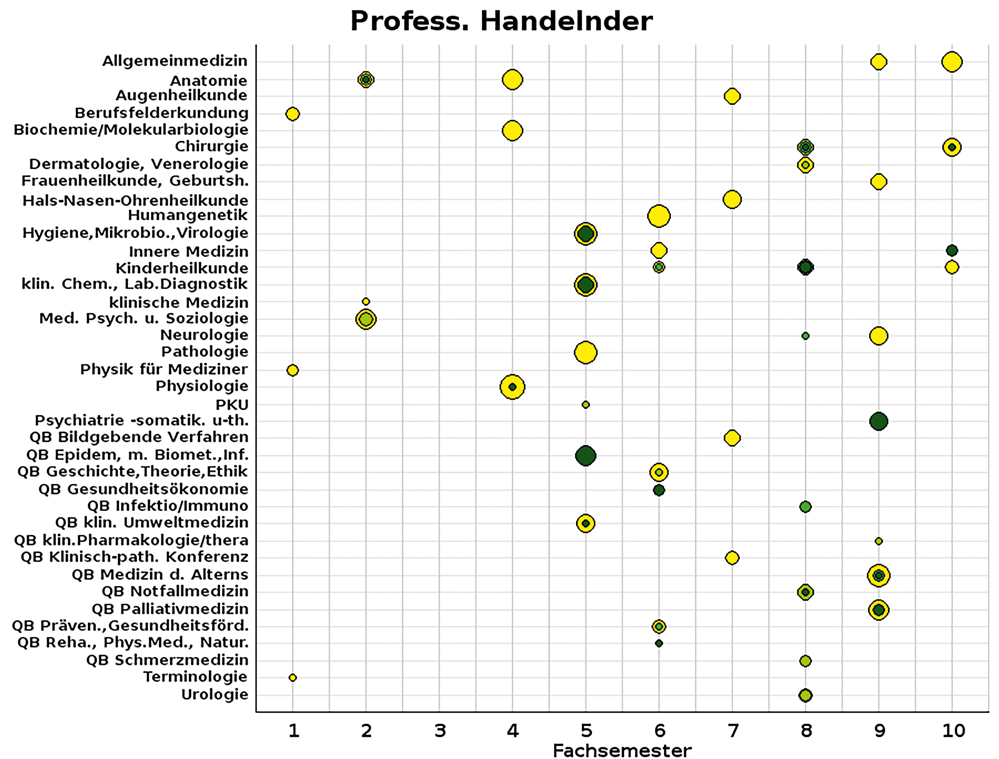 Figure: Mapping of the role of the "professional actor" (see www.nklm.de, including selfless attitude, ethical decision-making, assumption of responsibility) via the human medicine curriculum in Würzburg with the specified subjects and cross-sectional areas (QB) from the first to tenth semester . Implicit learning objectives are marked in yellow, explicit learning objectives are shown in shades of green (written in, for example, slides, handouts): light green = learning objective coverage less than 50 percent, medium green = 50 to 75 percent, dark green = more than 75 percent.
Furthermore, in the 2018 summer semester, the overarching target competencies and qualification goals for the human medicine degree program were created and published in a consensus process: www.med.uni-wuerzburg.de/studium/zielkompetenzen/. Here, too, the various facets of professional qualifications are presented and include social commitment and personal development.
Theoretical reflection on medicine and the role of the doctor has its central place in Würzburg in the cross-sectional area of ​​history, theory and ethics of medicine, which is taught in Würzburg in the second clinical semester, which is compulsory for all students. In an interdisciplinary lecture series and in more than a dozen small group seminars, questions of practical philosophy / ethics as well as the basics of epistemology and the theory of science and anthropology are conveyed. The history of medicine has a hinge function, which in the analysis of historically distant forms of knowledge and science, behavior patterns and role models, socio-culturally conveyed norms and values ​​as well as the social, socio-economic and political prerequisites and consequences of medical knowledge and medical action at all levels on an in-depth reflection of our present aims. In addition to the compulsory curriculum, there are voluntary accompanying events or supplementary courses in which medical students can reflect on their own thoughts and actions and develop their professional attitude further (see table).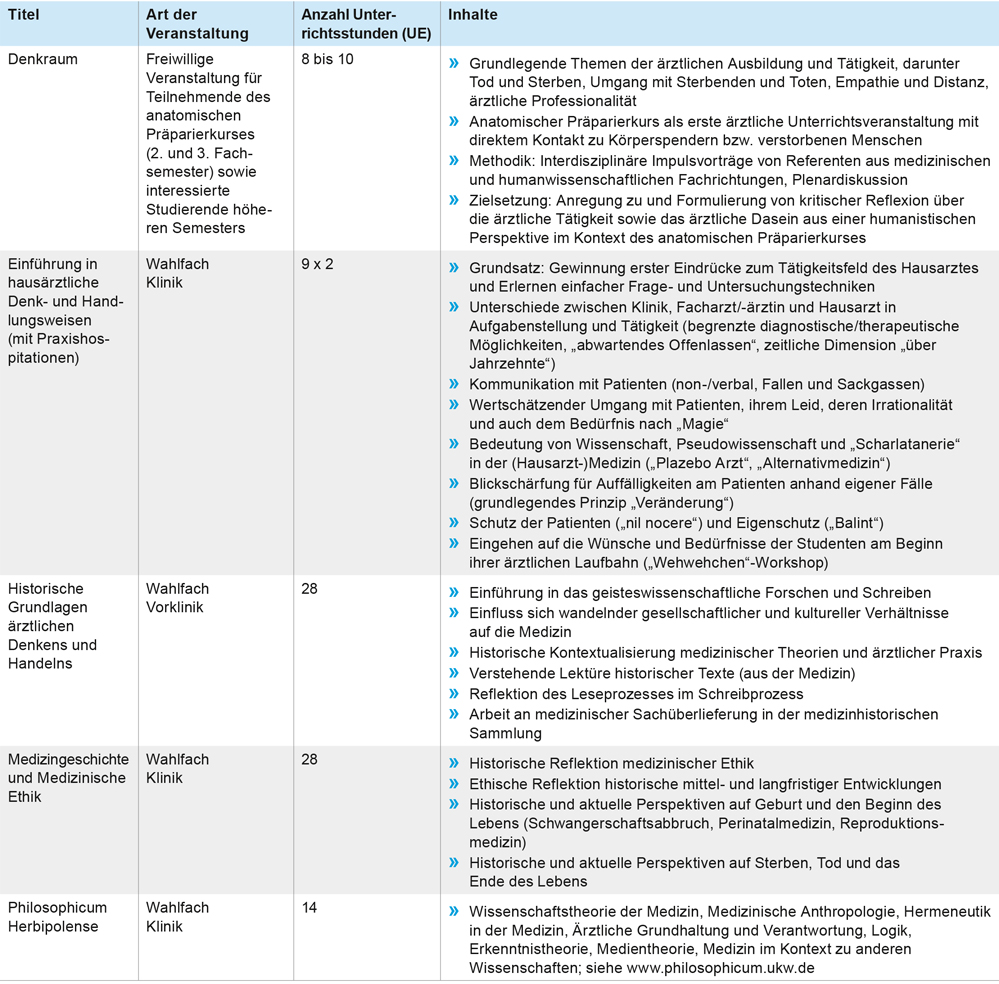 Table: Additional events in medical studies with "food for thought"

The bibliography can be found on the Internet at www.bayerisches-ärzteblatt.de (current issue).
Authors
University professor Dr. Sarah König, MME,
Professor Dr. Fritz Dross

Institute for Medical Teaching and Educational Research, University Hospital Würzburg, Josef-Schneider-Straße 2 - House D6, 97080 Würzburg, Tel. 0931 201-55220, E-Mail: koenig_sarah (at) ukw.de