Which film is better Memento or Ghajini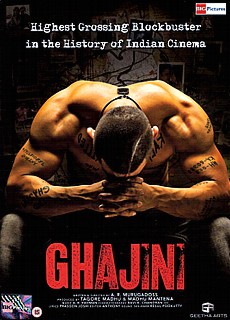 > molodezhnaja main page
> asian movies
> bollywood
> 2008
> GHAJINI





Action thriller. India. Hindi
Alternative titleगजनी
Director A.R. Murugadoss
script A.R. Murugadoss
production Tagore Madhu, Madhu Mantena
Songs A.R. Rahman
camera Ravi K. Chandran
choreography Ahmed Khan, Geeta Kapoor
actor Aamir Khan, Asin, Jiah Khan, Pradeep Rawat, Tinu Anand, Riyaz Khan
length 185 min.

Theatrical release 25.12.2008
Box office classification Blockbusters
Molodezhnaja age recommendation from 16


© Text Marco, molodezhnaja 17.3.09
© Pictures BIG Pictures, screenshots molodezhnaja
---
STORY
The extremely rich media mogul Sanjay Singhania (Aamir Khan) meets the unsuccessful actress Kalpana (Asin). Although she is younger and more excited than him, he falls in love with her. But when the couple is attacked, Kalpana is killed and Sanjay's skull is so badly injured that damage remains: he suffers from a defective short-term memory, which means that he forgets what happened before every 15 minutes. However, because he wants to take revenge on the killer of his Kalpana, he has tattooed his mission on his steeled body: retaliation. The aim of his campaign is a man named Ghajini (Pradeep Rawat). Sanjay documents the murderous mission with photos and tattoos so that he always knows where he is.
REVIEW
"Ghajini" is an unexpectedly stupid film and in several places slips by the margin of embarrassment. Director A.R. Murugadoss never tired of emphasizing in advance that the work could not be compared with "Memento". How true, because if you did that, everyone involved would have to sink into the ground in shame - Christopher Nolan's original knocks this copy into the dirt and stamps it muddy. The intelligence, the intensity and the innovation of the role model: all gone. Exchanged for any Bollywood botch and masala stink from the day before yesterday.
But. "Ghajini" is not bad at all for a dumb three-hour long runner. He's got well-mannered action, talented stars, and a usable look. So it rarely gets really boring despite the dramaturgical shallows. Similar to Ghajini from 2005, when Murugadoss was already shooting a "Memento" sausage under the same name for Tamil cinema. Aamir Khan liked the movie so much that he landed the lead role in Murugadoss' Bollywood version. The hype about the work was so huge that it hit the box office like a bomb and was the first production ever to cross the 1 billion rupee mark.
This success is granted to him, of course it is not deserved, because like the 2005 version, at least half of the creative input belongs to other filmmakers. Christopher Nolan for his "Memento", of course, from which people steal unrestrainedly. But also Jean-Pierre Jeunet, whose masterpiece "Amélie" was used for the short scene in which Asin leads the blind senior through the streets and explains to him what is happening around him. And also David Fincher, from whose stroke of genius "Fight Club" the opening credits are inspired. At least Murugadoss steals from the very best. He has taste. But only limited talent.
Its staging is one of the strengths of the film in some places, but often also one of its weaknesses. His terrifyingly retrograde use of sound effects, for example, would have to be punished. When Aamir comes into his apartment for the first time, every zoom and every cut is accompanied by a squeak and a swish and other noise. The use of time-lapse in some scenes is similarly clumsy and even slips into involuntary comedy every now and then. This "over-staging" fits in well with the overall impression of the film, because the actors follow the same path. Above all Aamir Khan.
You have to admire the man with what dedication he went to the part. As before Shahrukh Khan for Om Shanti Om, he put on muscles and plays the whole range from a snoop in love to a grunting fighting machine. Unfortunately, he only does the latter with the energy of a steam cooker. Anytime shortly before exploding. In the first 20 minutes it is particularly intense, not only in the sequence in which he examines his body and gets into a rage - I was actually afraid that his eyes would pop out of their mounts at any moment. Overacting old school and not always good. The Muckis, on the other hand, would not have needed it, in "Memento" it went well without it, but they don't fit badly. Aamir only looks a bit crowded in a few scenes à la Uday or Salman, but mostly just impressively strong. The way he gropes himself in front of the mirror at the beginning is pure Aamir fetish. And pretty sexy.
All the other actors don't have much to say about it. The 23-year-old Asin, who repeats the part from the original, is doing very well next to the twenty-year-old superstar, but her non-stop chatter is sometimes on the alarm clock. I also lacked the chemistry between the two. It is slowly becoming an uncomfortable habit in Bollywood to match the super-khans of the 40+ age group with girls who are just over school. That already caused inhibited chemistry with Om Shanti Om, here it's the same. Jiah Khan from Nishabd is similarly young. However, her role and play do not add anything to the film except excess length. And then there is Pradeep Rawat. Jaw out and charge - in a role that is far too pale. One of the biggest shortcomings of the film.
"Ghajini" doesn't want to be a big theater either, but rather to offer rumbling action. Here, too, he only achieved half a success. Whatever your position on the questionable statement - you have to give some sequences power. Others, on the other hand, are staged according to South Indian gusto and rather ridiculous when guys fly through the air or go to the ground with eight-fold pirouettes. Unfortunately, there is not much tension to be felt either. While "Memento" carried away, you are at best pleasantly entertained here. Murugadoss doesn't even tickle the nerves.
But if it works, then sometimes quite well - especially in the contemporary scenes. When the anger rises again in Aamir and he realizes what his mission is, then you can literally feel the energy level rise. And in the finale, which was rewritten by Mr. Khan personally, the mail finally goes off. Of course, all of this would have gotten more power if, as in "Memento", the question of what revenge would bring if you forgot it 15 minutes later. In the original it is a tragic revenge with a boundless cynical aftertaste. There is only one short scene in which Aamir has similar thoughts running through his head and he walks lost through the slaughter he has wrought. The rest is a tough and unreflective brawl.
Interrupted only by the rather unemotional romance in my eyes - and by songs. They are as necessary as sand on a sandwich and I dare to make the unpopular statement that A.R. Rahman delivers one of his weaker soundtracks more recently. He was better in Jodhaa Akbar. He won the Oscar for Slumdog Millionaire. Here, however, he delivers run-of-the-mill tobogganing with little memory value. The staging fluctuates between visually impressive (for example in the Namibian Dead Vlei, in which the Indian-born Tarsem shot for "The Cell" and The Fall) and embarrassing in terms of equipment ("Behka" is brightly colored and next to it, above all this behavior does not match Aamir, that is if already Shahrukh or Akshay terrain).
The short version of it all: "Memento" is a league better. The original ghajini is more stringent. But A.R. After all, Murugadoss manages to ensure that his soulless, logic-free, unsteady and rather stupid masala monster is hardly ever bored. Some scenes are really good, others are solid. Visually there is little to complain about and the end is coming in. The big winner of the film is only Aamir Khan. He enjoyed the role and gave all his energy to pack once more with a completely new mesh. No matter what he does, he goes to work with tremendous dedication. He wanted to make a hit and gives us a hit. That deserves respect, even if he sometimes overshoots the mark here. But its intensity lifts the masala trash, which is average in terms of both dramaturgy and content, to the level of an action blockbuster.
PS: The opening credits actually say in bad English "This film has been inspired by some stories and incidents with similar idea and real life incidents of people suffering from short term memory loss. We acknowledge other stories based on the disease short term memory loss". For such shameless hypocrisy, Murugadoss is likely to be reborn as a dung beetle.
SONGS
1) Aye Bachchu - Nice rock groove, moderate piece (Suzanne D'Mello).
2) Behka - Traniges song, nice design, but the cool man poses are poison for Aamir (Karthik).
3) Latoo - Mediocre disco number (Shreya Ghoshal).
4) Guzarish - Nice ballad with irrelevant choreography, but noble pictures from the Dead Vlei (Javed Ali, Sonu Nigam).
5) Kaise Mujhe - well sung, but quickly forgotten (Benny Dayal, Shreya Ghoshal).
MY DVD
Big Pictures (USA), Code 0, NTSC
Image: Anamorphic Widescreen
Sound: Hindi 5.1 with English, Arabic, Dutch, French, Malay, Portuguese and Spanish subtitles (film and songs)
TO ORDER
amazon.co.uk (delivers from the UK)
EXTERNAL REVIEWS
imdb
Bollywood Hungama (4½ / 5)
Rediff.com (2½ / 5)
SCREENSHOTS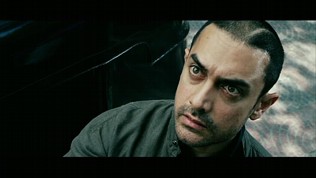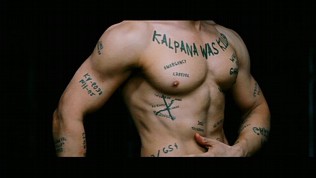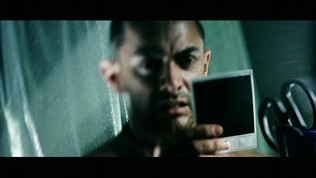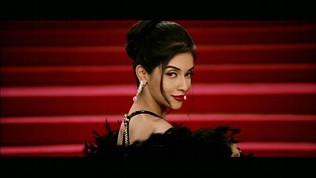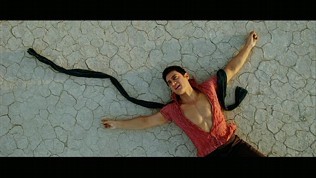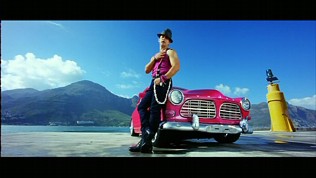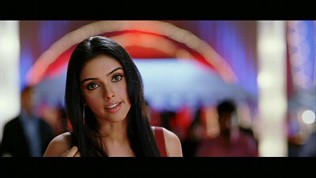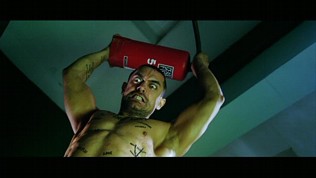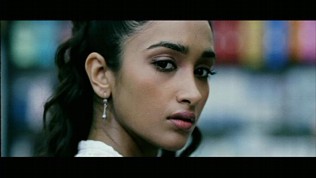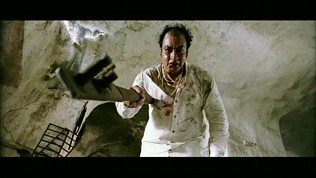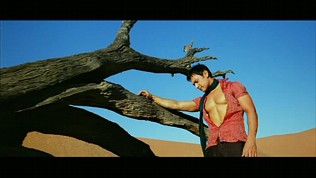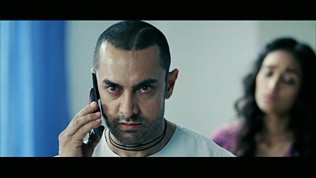 Screenshots of the DVD with PowerDVD 8, reduced and slightly sharpened with CorelPaint
---

created by molodezhnaja
all rights reserved.
Page optimized for Internet Explorer 6/7