What makes Magento successful
The history of the leading digital platform in e-commerce
Due to flexible integrations and a wide range of customization options, Magento is the world's most popular open source shop software. With Magento you get a shop system that meets all customer requirements and immediately brings numerous ready-to-use functions. But what do you know about the history and the company behind Magento? We enlighten you!
Over 450,000 websites and online shops have already been launched with Magento and the code alone has been downloaded 2.5 million times. It has been estimated that in 2019 Magento shops generated sales of around 155 billion US dollars, which makes up a market share of around 30 percent.
The e-commerce giant's loyal customers include Coca-Cola, Samsung, Nike and Ford, as well as many smaller online shop owners.
Find out here the 5 reasons why an online shop based on Magento is worthwhile:
By loading the video, you accept YouTube's privacy policy.
Learn more
Load video
The story of the Magento company
Version 1.0 of the online shop software Magento appeared on March 31, 2008 as an open source e-commerce platform.
Magento originated from the US private company Varien Inc., which is headquartered in Culver City, California. Right from the beginning of Magento, the platform has had a large number of supporters and volunteers behind it, who have helped to develop as a loyal community back then to this day.
The former CEO of Varien, Roy Rubin, later sold part of the Magento company to eBay and Magneto was then part of the X.Commerce business unit. In June 2011, eBay acquired Magento Inc. as a wholly owned subsidiary, which the platform remained until 2015. This year, on November 2nd, the private equity company Pemira took over Magento Inc. from eBay, whereupon Magento 2.0 appeared with a new software architecture, but with a similar technology stack, on November 17th, 2015.
In May 2018, Adobe Inc. acquired Magento for $ 1.68 billion, which was announced in June. Why? Up to now it has not been possible for Adobe to provide a trading platform for B2C and B2B, and Magento now perfectly complements Adobe's portfolio.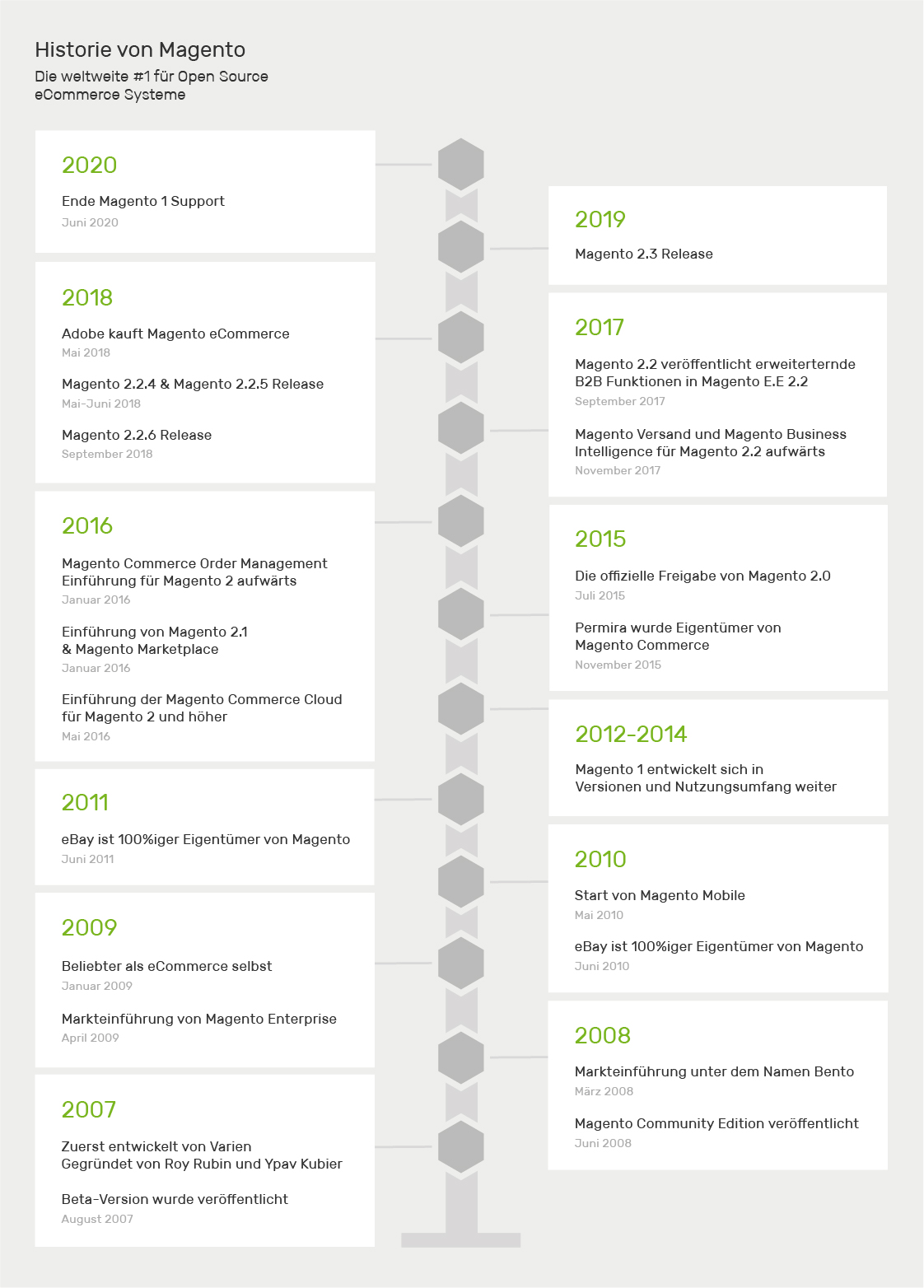 Graphic: History of the Magento company; Source: https://bsscommerce.com/blog/magento-2-community-vs-enterprise-edition-comparison/
Numbers about the versions of Magento
In 2007, Roy Rubin and his crew started the rise of Magento when they actually wanted to open a new branch of osCommerce (also an open source shop system). In the course of this, they found out that the system was out of date and could not meet the current requirements of the online shop operators.
Roy is a visionary who changed the trading landscape with an innovative open source approach that brought together all of the world's best developers into one unique trading platform.

Mark Lavelle, CEO of Magento Commerce
That was the birth of the beta version, the forerunner of the Magento 1 version. That was the starting signal for the Magento development of various editions. In 2008 the Magento Community Edition (forerunner of Magento Open Source) was published for the general public and in 2009 the Magento Enterprise Edition for commercial use. The start was already successful and the software was gladly accepted by developers around the world.
The company Magento achieved a real breakthrough for open source and also e-commerce in 2015 with the release of Magento 2. Based on completely new tools and an updated development structure, this system provides many new and extended functions. Until recently, Magento 1 and Magento 2 were developed together and in parallel in order to offer every user the best they can.
Adobe and the collaboration with the group led to the Adobe Commerce Cloud, which serves customers from all areas of B2B and B2C. The aim behind the developments is a central platform on which all e-commerce websites can be managed. With the takeover of Adobe with its tools such as Adobe Photoshop, Adobe Lightroom, all marketing and administration tools as well as all evaluation options by Adobe Analytics, the platform becomes a full-service provider in e-commerce.
Adobe is the only leader in content creation, marketing, advertising, analytics, and now commerce, delivering real-time experiences across the entire customer journey.

Brad Rencher, executive vice president and GM, Adobe Digital Experience
Support for Magento 1 was discontinued in June 2020. The company Magento would like to fully concentrate on the new future-oriented functions of Magento 2.
Since the takeover of Magento by Adobe, the success story of the shop giant has entered a new chapter in e-commerce. Security and stability have been improved significantly.
The point is, open source is in our DNA - don't worry, Adobe will continue to support and even improve open source development by incorporating Magento open source technologies into its software to serve both online retailers and buyers to offer an even better experience.

Adobe Statement
The future of the Magento company
Whether it's the Magento 2 PWA (Progressive Web Apps) project, which has caused a sensation worldwide, or the collaboration with Magento and Akeno regarding the inclusion of AI with chatbots.
The announcements of the Magento Summit 2021:
Regardless of whether you are a newcomer to Magento Commerce, a developer or a marketing manager - the annual Adobe Summit provides you with valuable information for every area of ​​interest. This year, from April 27-29, 2021, data, analyzes and best practices from Adobe and top brands will be shared in the virtual conference. Here you will find an extract of the topics of this year's conference:
Magento basics for newbies
Functions of the system
Creation of product catalogs
Management of content
Execution of promotions
Development of Magento Commerce with the extensions
Adobe I / O
Magento roadmap
Live search
Relevance of customer loyalty for your trade
Strategies for a personalized online shopping experience
Customer trust as an opportunity for growth
Customer experience for building a loyal customer base
and much more.