80s and 90s fashion - whatever is still, again or no longer trendy!
Every decade has its very own fashion trends. Some of them often seem strange or amusing from the current perspective, while others have established themselves and are recognized as an integral part of fashion to this day. It is therefore quite interesting to take a look into the past and clarify which fashion trends from the 80s and 90s are still popular, which came back and which, however, finally disappeared from the scene.
The 80s
The 1980s are known as the decade of bad hairstyles and flashy fashion - but also the love of life and light-heartedness. This is exactly why many people seem to want the 80s back. At that time, smartphones did not play a role and apparently nobody was interested in what others thought of their own "style". Here everyone could live out in the fashionable sense, which unfortunately also led to some aberrations in taste, at least from today's point of view. Nevertheless, not everything from the flashy 80s is finally out of fashion ...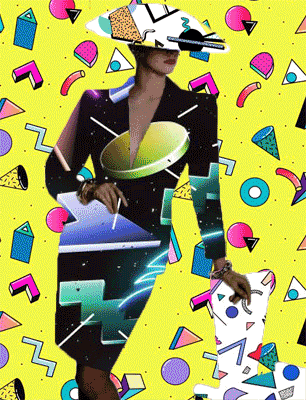 Source: giphy.com
Still trendy
# 1 neon colors
The 80s were one thing above all else: colorful! Every outfit had to be characterized by striking colors, preferably not just one neon color, but several in combination. Nowadays things are a bit more subtle, but neon colors experience a "comeback" at regular intervals and bring the 80s back into modern outfits. Be it the neon green shirt with jeans or a neon orange detail on the sneakers: You can still wear a touch of the shrill decade in this form. It is worth taking a look at the current trends, because every season a different neon color is hip.
Check out this post on Instagram A post shared by 🌴🍉 80s Aesthetics🌴🍉 (@neontalk) on Feb 5, 2020 at 6:51 am PST
# 2 Colorful hair ties
The hair ties were big and colorful in the 80s. The so-called "scrunchies" have been a long-runner ever since and adorn the braids, buns and hairbuns of many women. They are available in a velvet look, in colorful patterns or with sequins. The main thing is anything but boring, the motto seems to be. These are of course particularly effective when they match the color of the outfit or stand out from it in order to act as an eye-catcher.
# 3 fitted jumpsuits
Admittedly, in the 80s some jumpsuits looked more like pajamas and were anything but sexy. But the trend has persisted and developed. Nowadays, the jumpsuits are more subtle, but still tailored. They are available in fine fabrics or in a casual leisure look. In addition, they are often and gladly provided with sexy details such as a deep back neckline. There is also a new trend for jumpsuits every season, but they have never gone completely out of fashion since then.
# 4 mini skirts
Mini skirts have become an indispensable part of modern fashion - but they actually only became popular in the 80s. At that time, of course, in keeping with the decade, they were kept in flashy colors and were preferably combined with tights in other flashy colors. That doesn't have to be the case today! The miniskirt in all its variations is definitely a must in the wardrobe of every fashion-conscious woman, of course always in line with current trends, for example made of denim or in the trendy animal print.
Check out this post on Instagram A post shared by OT Lifestyle (@otlifestyle_) on Jul 23, 2020 at 8:25 am PDT
# 5 sneakers
Sneakers are also a fashion construct of the 80s. Before, they were actually used as pure sports shoes, but since then they have become the most important everyday shoes for many people. Year after year, the designers present new styles, with some trends from the past appearing again and again.
But there are also models whose popularity has remained unbroken since the 80s, for example the classic Vans or Chucks, the Adidas Superstar or of course the Air Jordan from Nike. No wonder, because the fascination with Michael Jordan has remained to this day and the famous athlete has shown some courage for his legendary shoe. Sometimes, as in this case, it's the unique stories behind them that made some of the fashionable inventions of the 80s classics.
Check out this post on Instagram A post shared by 🌴🍉 80s Aesthetics🌴🍉 (@neontalk) on May 20, 2020 at 10:15 am PDT
In again"
# 1 balloon silk sports suits
But there are definitely also fashionable products from the 80s that can by no means be called classics, but which are nevertheless wearable every now and then. For a long time, sports suits made of balloon silk were a real "no-go", but now they are once again conquering the catwalks. They are often worn in bright colors, with sports socks and eye-catching sneakers. The balloon silk ensures maximum comfort, because it is pleasantly light, yet incredibly robust. So it's no wonder that the material has been used often and with pleasure for fashion such as the typical sports suits of the 80s since it was invented. At the same time, it has this unique shine that makes every color shine.
Check out this post on Instagram A post shared by 🌴🍉 80s Aesthetics🌴🍉 (@neontalk) on Feb 11, 2020 at 1:40 am PST
# 2 Wide, colorful sweaters
Since everything was worn a little too big and too colorful in the shrill decade, this naturally also applied to the sweaters. However, this trend has not sustained consistently - until now. Because the wide and colorful sweaters of the 80s are currently celebrating their "revival". Men like to combine these with sweatpants or tighter jeans, while women like to add a knot to the oversized sweater or convert it into a "crop sweater" so that it allows a little more sex appeal. Here, too, the way in which the trend from the 80s is worn has changed - but not its original look.
# 3 puff sleeves
Puff sleeves are a trend from the 80s that has been frowned upon in recent years. Most women have probably disposed of their blouses, dresses, etc. with puff sleeves from that time for a long time. But now they are actually experiencing an unexpected "comeback". Nevertheless, they are designed more discreetly and elegantly than at that time. Above all, they adorn girlish dresses and playful blouses. But it's a trend that not everyone is enthusiastic about. So it is with the puff sleeves today as it was then: some love them, others hate them!
Check out this post on Instagram A post shared by Faiza Inam فائزة إنعام (@ faiza.inam) on Jul 14, 2020 at 7:53 am PDT
# 4 bomber jackets with patches
When it got cold in the 80s, suddenly everyone was wearing a bomber jacket. This too was of course oversized and colorful, with the colors mainly being incorporated into the look in the form of patches. A trend that has hardly been seen since then, which was also due to the dubious image of the bomber jacket, which it has since shed. But the bomber jacket has been suitable for everyday use again for several years. At first it was chosen simply and in a suitable size, but now the warm jacket can be worn a bit too big and with patches again. The trend from the 80s has slowly crept back into wardrobes.
# 5 XL blazer
And one last oversized piece from the 80s is now "in" again, namely the XL blazer. Although the blazer is a long-runner, especially in professional life, it has been more elegant and feminine cut since the 80s. Now women also wear it in their free time, and there they prefer to wear it in the "boyfriend look". The blazer can and should look like it was borrowed from a friend. Just like in the 80s, the cut is straight rather than tailored.
Check out this post on Instagram A post shared by Paretto | Fashion Potpourri (@ paretto.fashion) on Jul 21, 2020 at 11:45 am PDT
Absolutely "out"
# 1 Wide, thick shoulder pads
Not only the blazers are missing a detail that was very popular in the 80s: the shoulder pads. They were worn by men and women alike, in addition to blazers, especially in coats, trench coats and in many other items of clothing. A trend that has not reappeared so far and many people would be happy if it stayed that way.
Check out this post on Instagram A post shared by Ro - 80s 𝐦𝐮𝐥𝐭𝐢𝐟𝐚𝐧𝐝𝐨𝐦 (@ my.80s.fantasyy) on Jul 23, 2020 at 8:30 am PDT
# 2 jewelry about jewelry
Jewelry as an accessory is a long-running hit, no question about it, but in the 80s it was often overdone. Not only was the jewelry large, colorful and eye-catching per se - it was also endlessly combined. Three necklaces, five bracelets and a ring on each finger - this or something like that was what jewelry was worn in the crazy decade. Although jewelry "layering" is currently back in fashion, for example wearing three coordinated chains, the trends since the end of the 80s have been more subtle and elegant when it comes to accessories.
# 3 Too much lurex and sequins
If there was one thing that couldn't be missing in the 80s, it was the glitter and sparkle in the outfit. What was the normal everyday look back then is now best worn at a special event - and even then, sequins or lurex are now only in moderation rather than masses. There are still garments in sparkling splendor to buy, but these are combined rather discreetly and displayed on Christmas or New Year's Eve, for example. It remains to be seen whether this will change again one day.
The 90s
With the end of the 1980s came the end of many a fashionable sin from this unique decade. There may be people who still mourn the perms, shoulder pads, etc., but many are - at least in retrospect - happy that the "fashion madness" is over. After all, every decade also brings its own individual mentality, which is also reflected in fashion. The 90s were more cautious in this regard. The focus was on playful and youthful clothing, but here, too, there were some trends that stand out from today's perspective and some of which are actually still or again "in" ...
Still trendy
# 1 hoodies
Hoodies could be found in virtually every wardrobe in the 90s - regardless of whether they were male or female. They were allowed to be a little too big and provided with a pattern or print. Even today, the hoodies are still a long-running hit on the catwalks and almost everyone has one or the other copy at home. No wonder, after all, the hoodie keeps you warm, looks cool and can be combined in many ways. It is therefore to be expected that the classic will remain a star in the fashion sky for many more years to come.
# 2 velvet
In the 1980s, velvet was only found in scrunchies, if at all. But in the 90s the material conquered many other items of clothing. Since then, dresses, skirts and tops made of velvet have enjoyed great popularity, especially among women. In elegant cuts, velvet is ideal for special occasions such as a Christmas party, but it is also an eye-catcher in everyday outfits.
# 3 Stone washed and acid washed jeans
Before the 90s, faded jeans only existed naturally, namely on old and well-worn models. But suddenly everyone wanted the look and of course couldn't wait that long for their own favorite jeans to wear out. Therefore, the stone washed and acid washed jeans came into fashion and quickly conquered the whole world. Since then, they have experienced ups and downs again and again, but have never completely disappeared from the trends. Instead, the jeans take on new shapes and cuts or are combined differently - but stone washed and acid washed jeans are also available in all of these variations.
Check out this post on Instagram A post shared by 🙃 (@sour_patch_kandi) on Jul 23, 2020 at 6:49 am PDT
White t-shirts
A very simple trend in the 90s was white T-shirts in many different forms. They give every look for men and women a casual style - almost as if you hadn't thought about your outfit. Nevertheless, the white T-shirt always looks cool and has therefore persisted in the designers' collections to this day. Since the end of the last millennium at the latest, the white T-shirt has therefore been one of the all-rounders that everyone should have in their wardrobe.
In again"
# 1 high waist jeans
The high waist jeans, on the other hand, were lost for a few years. Instead, they have been replaced by low-rise jeans, where the waistband seems to have been lower year after year. So it was only a matter of time before a countermovement would come and therefore the high waist jeans of the 90s was not long in coming. Be it shorts, leggigs, skinny jeans or mom jeans: Many different types of pants, as well as skirts, are now available again with a high waistband. In addition, a number of intermediate solutions have been developed in recent years, so that you can now choose the waist height that best suits your taste and figure type.
# 2 Dad sneakers and platform shoes
It has already been mentioned that sneakers already conquered the world in the 80s. But in the 90s her look evolved and became much more extravagant. Chunky sneakers with thick soles and unusual shapes were predominant, often with colorful details, which were known as dad sneakers.
Those who wanted the sole even thicker, on the other hand, went straight to the platform shoes, which could be seen on almost all feet in the 90s. For many years, however, these two trends had vanished. They are back now! While the dad sneakers are presented in their original form, the platform shoes have become more discreet and are also available in many other variations, for example as sandals or ankle boots.
Check out this post on Instagram A post shared by Rollo (@shoeaddiction_hh) on Jul 22, 2020 at 1:14 pm PDT
# 3 micro sunglasses
Opinions differ as to whether they actually help against the sun. However, it is undisputed that micro sunglasses conquered the 90s. Back then, glasses with tinted lenses couldn't be small enough, often in unusual shapes and with bright colors. Subsequently, at the beginning of the new millennium, the trend was more towards large sunglasses - at least until now. In the current season, the micro-sunglasses are experiencing a "revival" and you can be happy for those who haven't disposed of the accessories after the 90s.
# 4 cargo pants
After being invented in the 70s, cargo pants came back in the 90s and now it's time again. No wonder, after all, it is comfortable, practical and also looks cool. Both men and women are now wearing cargo pants again and prefer to combine them with the otherwise simple look. In contrast to the 90s, this is now designed more simply and provided with a band around the ankle so that it does not lie on the floor. This gives it a more modern look and ensures that more and more people are currently rediscovering cargo pants.
# 5 bum bags
They were the "must-have" of the 90s: the bum bags. At that time, they were actually still worn around the stomach and thus proved to be particularly practical. Nevertheless, they quickly fell into disrepute and became a fashionable "no-go" ... until now. Suddenly the bum bag can be seen everywhere again, in creative forms and even more creative ways to wear it. Sometimes the bum bag hangs casually over the shoulder or sometimes diagonally across the chest. As before, not everyone can get used to this trend, but the bum bag is again gaining many fans and is therefore undisputedly back.
Check out this post on Instagram A post shared by O TAK O (@ o.tak.o__o.tak.o) on Jul 20, 2020 at 5:47 am PDT
Absolutely "out"
# 1 jeans on jeans
Nevertheless, there are of course looks from the 90s that are "out" and will probably stay that way. This is the combination of jeans to jeans to jeans. It is still allowed to wear a denim jacket with jeans, but another material such as a silk blouse or a cotton T-shirt must be combined. Fortunately, the uniform jeans look from the 90s, in which the entire outfit was made from the same or different denim fabrics, is a thing of the past - as are denim shoes, denim dresses, denim bags, etc.
Check out this post on Instagram A post shared by 🌴🍉 80s Aesthetics🌴🍉 (@neontalk) on Jan 12, 2020 at 11:00 AM PST
# 2 mesh shirts
The net shirts are no longer to be seen on the streets. They were never really suitable for everyday use anyway. Nevertheless, as a trend in the 90s, the net shirts allowed men and women to take a deep look. They were preferred to be worn in the club, but were also combined differently in everyday life. What is reminiscent of a fishing net was fortunately quickly "out" and has remained so to this day.
# 3 ass antlers
Last but not least, another trend from the 90s should not be missing from this list, although it has less to do with clothing: ass antlers were also totally in fashion back then and many women dared to go to the tattoo artist. Almost as many regretted it afterwards and had their ass antlers covered or removed. Tattoos are still in vogue, but the antlers are rarely seen and when they do, it's usually just a holdover from the 90s.